RealNetworks Announces Second Quarter 2016 Results
SEATTLE – August 3, 2016 – RealNetworks, Inc. (NASDAQ: RNWK), a leader in personal digital entertainment, today announced results for the first quarter ended June 30, 2016.
Revenue of $29.7 million as GAAP net loss and adjusted EBITDA improve by over 60%;
Stabilizing revenue, significantly reducing losses and making strides toward returning to revenue growth and profitability in 2016;
Expanding in Latin America with two new deals with Telefonica Vivo, Brazil's largest mobile carrier;
Launched two new first party titles in Games and both off to successful starts;
Rebranded Rhapsody as Napster in North America; and
Cash and short-term investments of $78.8 million  
For the second quarter of 2016, revenue was $29.7 million, compared to $28.2 million in the previous quarter and $31.8 million in the second quarter of 2015, excluding revenue from the Slingo and social casino games business, which was sold during the third quarter of 2015.
GAAP net loss for the second quarter of 2016 was $(8.3) million or $(0.23) per share, improved by 70% compared to $(27.8) million or $(0.77) per share in the second quarter of 2015.  Adjusted EBITDA for the second quarter of 2016 was a loss of $(4.8) million, which improved by 61% compared to $(12.5) million for the second quarter of 2015, excluding the results of the Slingo and social casino games business, which was sold in August 2015. A reconciliation of GAAP net income (loss) to adjusted EBITDA is provided in the financial tables that accompany this release.
"In the second quarter of 2016, we continued to make progress in stabilizing revenue, reducing costs and positioning the company for growth and a return to profitability by the end of 2016," said Rob Glaser, Chairman and CEO of RealNetworks. "We are also excited that Telefonica Vivo, Brazil's largest carrier, has chosen to launch products based on both our Ringback Tone and RealTimes platforms. These two new design wins complement other recent progress we've made in our Mobile Services business with carriers such as Vodafone, KDDI, and Verizon."
The Company's GameHouse unit launched two new, first-party titles in the second quarter: Heart's Medicine - Time to Heal, and Fabulous - Angela's Fashion Fever.  Both titles are off to strong starts, demonstrating that Real has been able to maintain high games quality while ramping up title production.
In addition to its progress with new product roll-outs, Real also made significant strides in lowering its operating costs.  The Company's operating expenses in the second quarter of 2016 were down 25% from the same period in 2015, excluding stock compensation, restructuring charges, and expenses from the Slingo and social casino games business.
As of June 30, 2016, the Company had $78.8 million in unrestricted cash, cash equivalents and short-term investments, compared to $86.8 million as of March 31, 2016. 
Segment Operating Results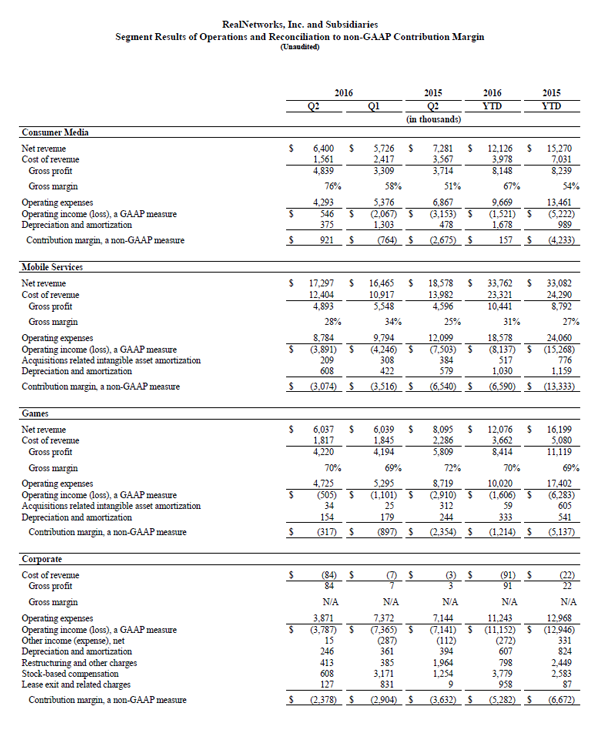 Business Outlook
For the third quarter of 2016, RealNetworks expects total revenue in the range of $28 million to $30 million and an adjusted EBITDA loss for the third quarter in the range of $(5.0) million to $(7.0) million.
Webcast and Conference Call Information
The company will host a conference call today to review results and discuss the company's performance at 5 p.m. ET/2 p.m. PT. You may join the conference call by calling 888-790-3440 or +1-517-308-9350 (Passcode: Second Quarter Earnings). A live webcast of the call will be available at http://investor.realnetworks.com/ and an on-demand webcast will be available approximately one hour following the conclusion of the conference call. A telephonic replay will be available until 11:59 p.m. PT, August 24, 2016 by calling 866-441-1045 or +1-203-369-1053 (Passcode: 832016).
For More Information
Michael Newman, StreetConnect
Investor Relations for RealNetworks
+1-206-729-3625
IR@realnetworks.com
RNWK-F
About RealNetworks
RealNetworks creates innovative applications and services that make it easy to connect with and enjoy digital media. RealNetworks invented the streaming media category in 1995 and continues to connect consumers with their digital media both directly and through partners, aiming to support every network, device, media type and social network. RealNetworks' corporate information is located at www.realnetworks.com/about-us.
RealNetworks and RealTimes are trademarks or registered trademarks of RealNetworks, Inc. or its subsidiaries. All other companies or products listed herein are trademarks or registered trademarks of their respective owners.
About Non-GAAP Financial Measures
To supplement RealNetworks' consolidated financial information presented in accordance with GAAP in this press release, the company also discloses certain non-GAAP financial measures, including adjusted EBITDA and adjusted EBITDA by reportable segment, which management believes provide investors with useful information.
In the financial tables of our earnings press release, RealNetworks has included reconciliations of GAAP operating income (loss) to adjusted EBITDA and to adjusted EBITDA by reportable segment.
The rationale for management's use of non-GAAP measures is included in the supplementary materials presented with the quarterly earnings materials.  Please refer to Exhibit 99.2 ("Information Regarding Non-GAAP Financial Measures") to the company's report on Form 8-K, which is being submitted today to the SEC.
Forward-Looking Statements
This press release contains forward-looking statements that involve risks and uncertainties, including statements relating to RealNetworks' current expectations regarding future revenue and adjusted EBITDA, our future growth, profitability, and market position, our strategic focus and initiatives, agreements with partners, and the growth and future prospects relating to our Rhapsody affiliate. All statements contained in this press release that do not relate to matters of historical fact should be considered forward-looking statements.  These statements reflect RealNetworks' expectations as of today, and actual results may differ materially from the results predicted. Factors that could cause actual results to differ from the results predicted include: RealNetworks' ability to realize operating efficiencies, growth and other benefits from the implementation of its growth plan, strategic initiatives, and restructuring efforts; the emergence of new entrants and competition in the market for digital media products and services; other competitive risks, including the growth of competing technologies, products and services; the potential outcomes and effects of claims and legal proceedings on RealNetworks' business, prospects, financial condition or results of operations; risks associated with key customer or strategic relationships, business acquisitions and the introduction of new products and services; changes in consumer and advertising spending in response to disruptions in the global financial markets; fluctuations in foreign currencies; and changes in RealNetworks' effective tax rate. More information about potential risk factors that could affect RealNetworks' business and financial results is included in RealNetworks' annual report on Form 10-K for the most recent year ended December 31, its quarterly reports on Form 10-Q and in other reports and documents filed by RealNetworks from time to time with the Securities and Exchange Commission. The preparation of RealNetworks' financial statements and forward-looking financial guidance requires the company to make estimates and assumptions that affect the reported amount of assets and liabilities, and revenues and expenses during the reported period.  Actual results may differ materially from these estimates under different assumptions or conditions. The company assumes no obligation to update any forward-looking statements or information, which are in effect as of their respective dates.